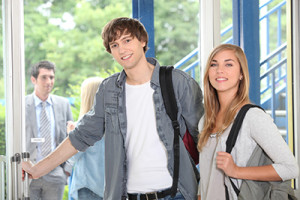 Establish Priorities
Now that you're mostly on your own, you need to figure out your financial priorities. In other words, what is essential for your lifestyle and what could you go without. Determine what your needs are, but don't forget to enjoy the finer things in life. Occasional small indulgences won't hurt, but overspending will definitely have a significant impact.
Develop a Budget
With your priorities in order, you can more effectively make a monthly budget that works for you. Make sure you have enough money to satisfy your needs, while setting aside some for savings. Sticking to this budget will help ensure that you are financially secure during your freshman year. If you want a little extra spending money, consider looking for a part-time job on campus. Many campus jobs offer flexible schedules because they understand your studies come first.
Track Your Spending
To make sure that you don't go over budget or lose sight of your financial priorities, keep a detailed list of your spending habits. One of the easiest ways to do this is to get a prepaid debit card and load it up with the money you need for your monthly budget. Most prepaid cards allow you to check your balance online or at an ATM so that you can monitor how much money you're spending and when you're spending it. If you notice that you are spending too much by the end of the month, examine your list of purchases to see where most of your money went.
With these tips in mind, you should have a better idea of how to manage your finances during your freshman year at school. Just remember to have fun, but always stick to your college budget!